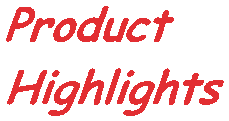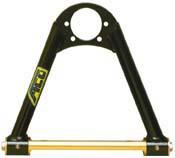 AFCO Upper Control ArmAFCO upper control arms set the standard for high-quality suspension components. The mig welded arms are built with .083 wall tubing (arms under 10") or .120 wall tubing (arms over 10").
All cross shaft bushings are clearanced to allow shrinkage during the welding process. With the stamped steel ball joint plate, you have the best upper control arms available.
AFCO Part #20009: Upper Arm - Aluminum Cross Shaft 9" (shown).
---

Winters Quick ChangeSprint Center Quick Change combines the WINTERSopen tube type center section with closed tube bells, making a durable, yet lightweight, setup for standard closed tube applications. Available options provide combinations that suit many applications.

Any combination of closed tube bells and Sprint type or open tube gear covers make the possibilities unlimited. Available in magnesium and aluminum. Order standard closed tube assembly P/N with 8133 option for 'Sprint' type center.
These assemblies are also available with magnesium castings.
---
Kirkey Racing Sprint LightweightKIRKEY's Sprint Lightweight is designed for Sprints, Mini Sprints, Midgets, Dirt Modifieds and Champ Cars.
081 thick 5052 grade aluminum. TIG welded on the outside and MIG welded on the inside for added strength.
Contoured sides support hips and thighs along entire side of seat. Seat bottom is shaped at rear to support tailbone and lower back. Center leg support holds inner thighs under heavy cornering forces.
Aluminum extrusion around perimeter of seat adds strength and safety. Edge of seat is stepped and extrusion is offset to outside, ensuring inside of seat is completely smooth.
Seat back is double crossbroke for added strength and comfort.
Rib supports are reinforced with welded lightweight flared band.
Strategically placed flared openings lighten and strenghten seat.
---

Wilwood Rear Pro Series Disc Brake Kits
WILWOOD's rear Pro Series kit provides all the stopping power you need with the increased cooling capacity of performance ventilated rotors. Designed to fit all popular rear ends, each bolt-on kit comes complete with four piston Billet Dynalite calipers, high friction / low dust disc brake pads, rapid cooling vented iron rotors, aircraft alloy mounting hats, billet aluminum brackets, hardware, and fully detailed instructions for easy installation.
Our Pro Series Parking Brake kit adds a pair of compact, high-torque mechanical calipers and precision stamped cable stops.
For the ultimate show car look, add the polished Billet Dynalite and the polished mechanical caliper (for the parking brake kit).